Design Your Own Road Case
You design the road case of your dreams (and needs). And we build it.
Road Case Design Process
Do you need to design and build a customized road case? Our team of experts at Road Case Designer can help. We'll take your ideas from digital paper to road cases while ensuring the highest quality.
We can build cases to meet the requirements of any industry but we do have relationships with several clients in the following industries: music, trade show, audiovisual, sports and aerospace.
Yeah, yeah—sounds ideal, but how exactly does it work?
Scroll down to see how we take that very specific idea in your head and make it a reality.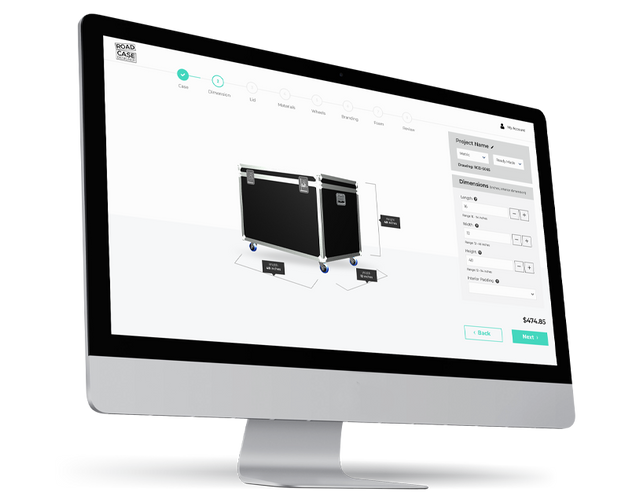 Put Your Idea Onto (Digital) Paper
Using our 3D design program (that sweet thing to the left), you'll customize every facet of your road case until you've built exactly what you need. Our sweet program updates in real-time so you can see how your creation is shaking out as you go along.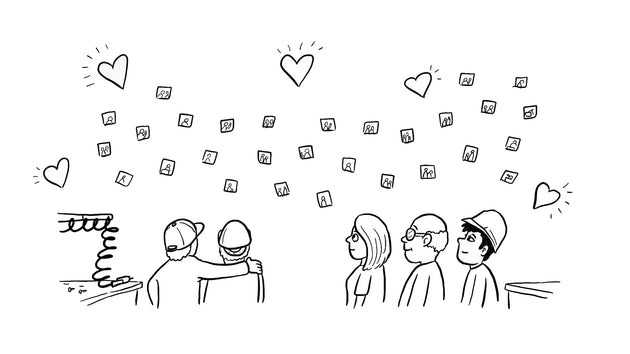 We Turn Your Idea Into A Dreamy, Road-Ready Reality
Once we've got your idea, we'll build your road case. Yep, it's that easy.
If you moonlight as Bob or Barb the Builder and want to construct the case yourself, we can ship your case to you collapsed—and you can put it together. Feel accomplished and save a little bit of cash? A huge win for everyone involved.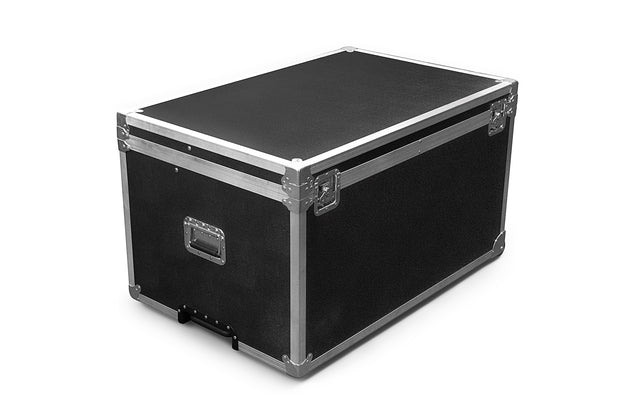 We Ship It Straight To Your Door
If you're Bob or Barb among us (see step #2), you'll get the collapsed version. If not, you'll receive your custom road case within three weeks—ready to be used, filled, toted, loved and adored by you.
Customization Options
Celebrating and serving the control freaks, the type-A's, the DIY nerds, and everything in between.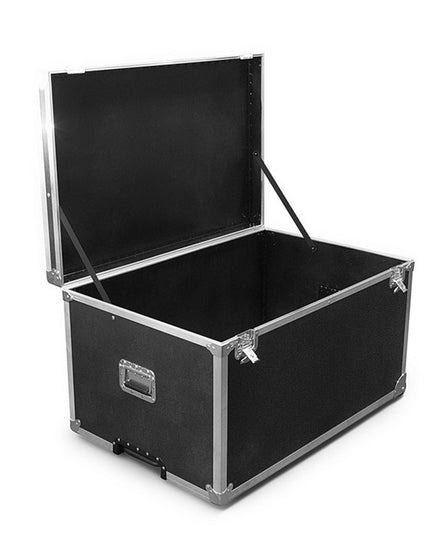 Dimensions

Do you absolutely love trying to jam your precious cargo into something it definitely won't fit into? Or lugging around a bathtub-sized case for a lightweight but human-length microphone? Of course you don't—that'd be nuts. From lift-off lids to tray-style cases, we configure custom cases that fit both your stuff and your lifestyle.

Hardware

Do you need varying wheel sizes? Or an extra thick case for transporting heavy equipment? Do you need the case to fill the gaping void in your life after a breakup? We can't help with the last one, but we can handle the ultra-specific hardware needs. We recommend self-care and therapy for the latter, but at this time we do not provide any products for breakups.

Padding

Whether you need hard foam, soft foam, carpeting or just a plain, old empty case—we'll take care of however your insides need protecting. Again, just the inside of the case. Not the inside of your soul. We think our cases are so good they'll make you feel better inside, but our legal guy Brian says we can't claim that.

Colors

You may just need an unassuming (yet chic) black case, or maybe you want it to stand out so it's harder to misplace—either way, we'll make it sure it reflects your brand. And quite literally actually, because we can stencil on your logo or brand design if you want to really flex.
Road Cases That Are Built To Last
After making your selections through our easy-to-use interface, we then build your road case to those exact specifications. We also have a wide inventory of standard cases you can select from. In almost forty years of custom case building, we've delivered a myriad of solutions and we can do the same for you.
Industries
So, this is cool and all—but is it for me?
Honestly, maybe! But check out a few of the common industries we serve and maybe it matches up with your needs.
Our Story
We've been building custom cases for thirty years, and in that time, we've seen tons of customers who've been through the wringer trying to figure out how to get a custom road case at a reasonable price and in a reasonable amount of time.
Whether timing is slow, costs are high, or there's just too much back and forth—we've found that businesses love to make customers feel like their needs or requirements are just too much of a pain in the you-know-whaaaat. We don't think that's fair—so in response to that, we built an online road case design tool that helps you easily create a case that perfectly suits your needs. 100% guilt-free, too. Your needs are reasonable, and so is our tool.
Learn More About Us
Your Story, As Told Through Jeremy
Jeremy is a musician who obviously values his music equipment, but has found that most off-the-shelf road cases are a pain to transport, or don't protect his gear properly. But Jeremy is just one guy who only needs a few cases, so most companies won't help him since it's not a bulk order...

But... ahem, drum roll please… see exactly how Road Case Designer worked for our dude J.
Quick Ship Road Cases
Because time is money and money is time, and you may not have either for a custom case—check out our quick-ship options. They're just as strong as our custom cases, and you can still customize the interior details and wheels. With over 200 different shapes and sizes, there's still tons of options that can work for your particular needs.
SHOP THE CLASSICS
We polled the people so you could hear a little bit about how our custom road cases have helped other customers just like you.
I was lugging around road cases that were too big, paying too much to ship them, and still ending up with damaged equipment because the cases weren't tailored for my gear. Since I got my own custom cases, those headaches have melted away.

CHESTER Austin, TX
I travel 40 weeks of the year, and wouldn't be able to sleep on the plane if my equipment wasn't protected with a just-right flight case.

WALTER Jersey City, NJ
I've known for a while that I needed a custom ATA case, but every company I called either wanted an arm and a leg or outright refused because I only wanted a couple. Road Case Designer helped me when nobody else would.

PEARL Fresno, CA